As for life around here, the dryers still don't dry, I still like Mykala, and cereal is still the best option at the Binz. This past weekend more than made up for that "food thing," though. Since one can only handle so many creative interpretations of the fish stick Friday nights at the Binz, me, Mykala, Emily, and Markoe (Markoe, Ryan) headed out to Chino Latino. That was really good, and by really good I mean very flavorful and also a completely new dining experience. Alex + urban specialty restaurants have, until this point in time, not had any type of relationship. This past Friday, though, I had calimari, edamame, and mussels (in a coconut curry sauce) for the first time in my short tenure here on Earth. Markoe paid for the entire thing before anyone could stop him — I felt like a slob, so I plan on losing money in his room sometime. Anyhow, all of it was very very good (especially the edamame, which let you choose how much salt you wanted, as it was on the outside of the pods of soy … soypods?).
Earlier Friday, I went home to get Scrabble (we bought a new one as the old was too old to leave home … it probably would have decomposed), and also got dress clothes to prepare for eating at Zelo on Saturday. You see, it was Kourtni's 15th birthday, and her parents took us out to celebrate (an extremely generous thing to do, I might add). I bought her a picture-holder silver-telescoping-alligator-clip contraption, and hopefully she will find some use for it. Holding pictures, perhaps. Now then, the food was ridiculously good. My tastebuds almost fell off. A four course meal with the best salad dressing I have ever tasted (probably not even called dressing at this level), and the best four courses I have ever had. Get this: the tuna (and select other fishes) are caught in Hawaii in the morning, and flown into Minnesota to be cooked for your dinner that evening. Suffice to say, the fork of fish I had from Mykala's dish was out of this world. With such good company, however, I know the dinner would have been just as enjoyable and fun in any place. I left happy. Happy Birthday, Mykala's younger sister Kourtni!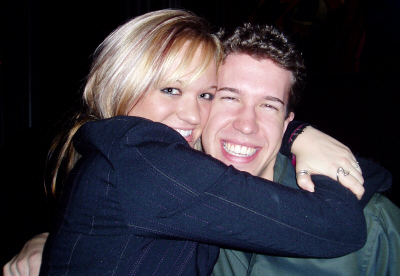 I like that picture.
Oh, pictures: I have shot some new, super secret, photos of lighting fixtures around campus. If they turn out, they might be the basis for a redesign around here. The observant may have noticed that tumbledry now has an edition tag which depends on the time of day (in the top right corner) — I am shooting pictures to fit each different time of day. Hopefully, things will work out. I plan on being done by Christmas.
There are twelve (12) days of school until Thanksgiving break, which I am greatly looking forward to. Since we now have comments, I would like to give you all the opportunity to share your Thanksgiving plans — go ahead, talk amongst yourselves!