When people are grocery shopping with headphones on or when they're totally absorbed in a text message conversation at the gym, I first thought such behavior simply annoyed me. I thought that these people's disregard for their surroundings bothered me because it put more of what can only be described as dead weight in my path, forcing me to find a passage around inert obstacles that are unaware and unwilling to acknowledge my presence. Then I realized it wasn't my forced reroute that troubled me but rather that first part—these folk's lack of awareness.
The majority of people wearing headphones or lost in their phones in spaces where public, social interactions are de rigueur, these people broadcast a certain energy—one that says I have surveyed you, plebs forming my surroundings, and I find you utterly unworthy of my time or my attention. Let me clarify: for the purposes of this essay, I am altogether unconcerned by the changes to various etiquette, norms, and communication standards wrought by the modern technology and gewgaws with which we cocoon and distract ourselves. This is not a "kids these days" thing. My concern is different: the body is present but the spirit is elsewhere.
There is a scene in Pixar's 2008 film Wall·E aboard a giant interstellar cruise ship. Mary, a human who represents the state of humanity, is blithely, completely unaware of her surroundings until a minor accident disables her heads-up communications screen.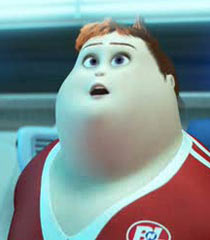 She gazes about in astonishment: "I didn't know we had a pool!" Pixar was not trying to be subtle here, and it's a testament to the quality of their filmmaking that this scene played neither abrasive nor preachy.
So that's all I wish, that the engrossed and distracted could realize the beauty, depth, quality, and vitality of what they are missing when they fixate on a tiny screen.