I started a post here sometime ago that said this: "I wish I were better at life." I will spare myself the indulgence of self-criticism and instead stick with something more uplifting. After all, I can attribute this Funk to a variety of things, none of which will not get better, and none of which are insurmountable. We all know those times, when suddenly, for no good reason at all, you feel some unseen weight pushing you down into the depths of sadness. Patiently waiting for the passing of this burden is the best thing to do, but hard sometimes. Not to say I encourage pacifism when it comes to self-help, but I do condone an acknowledgement of an ultimate limit of what we can do to make things go how we wish. I would much rather spend energy on trying to be who I want to be: an ounce of prevention.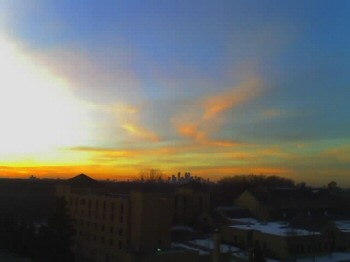 I took a picture of this sunset today, Minneapolis is on the far horizon. It made me smile to look out my window and see the sky painted again - these months have too many cloudy sunsets, fading without spectacle into another night. I would like to see more sunrises - those summer morning sunrises during which the birds sing early, and the dew on the grass takes its time to burn off. One of my favorite pictures I have ever taken is dew-tipped grass in my yard, the sun skimming over their tops. Thinking like this makes me want to stop writing and start pulling together, stop thinking and start doing, stop rushing and start slowing down. If you find out, do not tell me how, but if you could lend me a sage hint or two, that would be fantastic.
If you will indulge my stream of consciouness for one more paragraph, I feel a great sense in this past year of trying to figure out what my life is going to be. I know what I want to do, I know the people I wish to be with, I know where I want to go … but I want to enjoy every minute, every second. There is this song by the Corrs that goes "We are so young …":
We are chasing the moon
Just running wild and free
We are following through
Every dream, and every need

And it really doesn't matter that we don't eat
And it really doesn't matter that we don't sleep
It really doesn't matter, it really doesn't matter at all

'Cause we were so young then
We are so young, so young now
And when tomorrow comes
We'll just do it all again

We are caught in a haze
On these lazy summer days
We're spending all of our nights just
A-laughing and kissing, yeah
Don't get me wrong, I don't really like the song: the tune is really quite annoying. But, the message, oh the message: that's what I am searching for. I pray I can embrace that; stop planning and start living.