In February of 2005, I mocked up an idea I had for attaching the iPod shuffle directly to my full size headphones. Today, when I got a second-generation iPod shuffle, I was able to realize this idea and correct a shortcoming in this newest iPod. Note that the shuffles currently ship with the previous generation iPod earbuds. You know, the ones with slightly inferior fit and sound quality to the newer 'buds. Thanks, Apple. I had assumed the pictures depicting the old earbuds on the Apple website were used simply because the newer model was not available at time of photography/photoshopping (I'm not sure how those images were originally generated). In an effort to correct the earbud shortcoming, I realized I could combine headphones and a shuffle into a cords-free wundermusik contraption. In short, I could make my original idea a reality: a version 2.0, if you will. I'm still looking to get a shorter y-cable (1/8" stereo jack to 1/8" dual mono … anyone?), but for now this works pretty well. I'll walk you through it.
The entire idea behind shuffle phones is to combine the portability of the iPod shuffle and full size headphones into high fidelity audio system for studying. Execution sans-cords is critical, because sitting at a library table juggling a cord around notebooks, large textbooks, and miscellaneous papers can be a pain … it's not the end of the world, but here at tumbledry we're in the upgrade business, ok?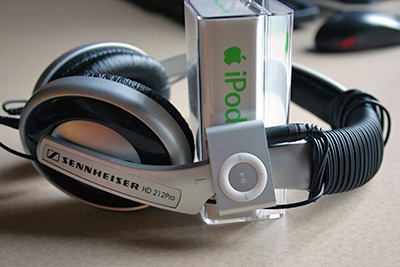 Step 1 - Attach iPod Shuffle to Headphones
I used my trusty Sennheiser HD 212 Pros, which as you may have noticed from the specs, have an unusually long cord. 10 feet, to be precise. I had to wrap ten feet of cord (should I say it again?) to make this work … ideally, I'll be able to source a shorter y-cable. That said, the "startlingly bassy" HD212's silver color matches the iPod's anodized aluminum quite well, and the clip holds the iPod on with reasonable security. This wouldn't be good for exercise, but it's quite usable for studying and similar activities.
Step 2 - Load with Music
It is of course imperative to put some decent music on the shuffle. Cord-free bliss should only be experienced in conjunction with excellent musical selections.
Step 3 - That's It
Enjoy! As you can see, the fit is comfortable, as the lovely Mykala so aptly demonstrates.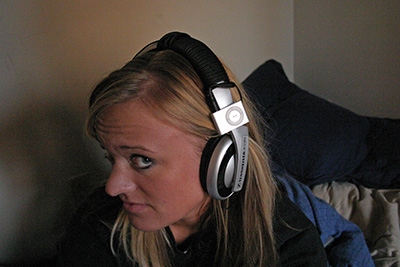 Do consider that although the controls remain accessible, I won't be able to see them. I couldn't think of controls easier to memorize, though.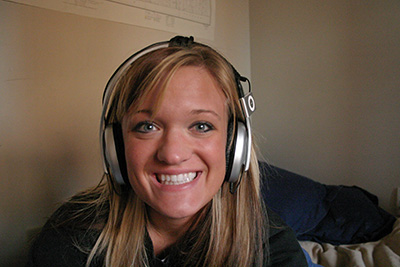 Future improvements include a shorter cord and a better bracketing system that won't put strain on the clip of the shuffle. In the meantime, I'll be enjoying my music without the nuisance of cords.