My owl by the name of Genevieve was once very white, but the fire sprinklers turned her a rather black/gray color. We have been cleaning her for the past couple of days but ran into problems. You see, we cleaned her tail on the surface, and then hung her upside down to dry. Unfortunately, spots appeared on her head which were a rather odd color of rust. She's a snowy white owl, and since we figured she would like to stay that way, we cleaned a bit more, soaking her this time. She is now a vibrant shade of white, but looks as if she has just been born. I am sure once she is dry she will be as downy and soft as ever. You're a trooper, Genevieve.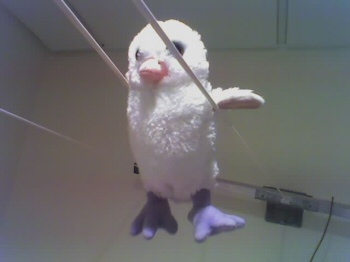 Speaking of which, my room gets mold abatement and new carpet this coming Thursday, the 27th of January. This means I can move in on time for the new semester. It will be nice to get my school room back in one piece finally, it has been deserted while drying for the past month. The window won't leak cold air anymore, either. (Woo!)
That said, St. Thomas might give us around $300 dollars for the hours and money spent on this entire situation. Let us see what kind of institution they are.
In my dry room, I will be using the X-Micro USB to Bluetooth Dongle I bought. This tiny device lets me use my wonderful cellulartellephonetalkiething to send pictures and receive ringtones - all for free. Well, for the cost of the dongle. Pictures on my phone will be trapped there no longer. (!)
Continuing with my college theme (can you tell I am gearing up to return?) - this is the question for my scholarship essay: "What is the value of credit union membership?" I think the devil himself wrote that. How can you say anything meaningful about that? In 500 words, no more, too. I can just see the beginning, "William Meyers was a homeless man, looking for an end to his tough life on the street. In an event that he would later describe as 'life-changing,' he sought refuge in the credit union lobby one cold January night …"
Our papers for Theology are supposed to be between 500 and 700 words, so I did a word check when I thought I was done with my paper. Finding my word-count at 666, I took a little time to write a touch more.
My cover letter for dental internship applications turned out pretty well (this is a specific version of a general form):
At my recent checkup, I spoke with my hygienist Kirsten Ross about a possible summer filing position at your office. She recommended I get in touch with you for further details about this position.

I would appreciate the opportunity this summer to work on your team doing any secretarial duties you may need assistance with. As a pre-dental student, I would find such a position an invaluable opportunity to contribute to and learn from a dental office like yours. I am a hard-working, proactive, and responsible student who is excellent at communicating ideas effectively and executing tasks efficiently. Furthermore, I possess extensive experience in maintaining and using computers and software.

My enclosed resume outlines my current educational background and details my other accomplishments. My dorm phone number and email as listed on my resume are the best methods by which to contact me; I always respond within one business day.

I look forward to hearing from you soon. Thank you for your time.
I do not have very much experience tooting my own horn, so strong verbs touting my abilities are foreign to me. Hopefully, I will get an offer from this first batch of mailings.
I think a fantastic idea for radio station format variety would be to have a day where the station takes the songs they normally play, but instead plays the song that comes after the normal one on the album. I know I would listen with interest, though I think everyone would find some real jems. Of course, one would not be able to tell the difference with top-40 stations. This idea is undeniably elegant, though.
Speaking of undeniably lovely women (oh I wasn't before? … oops), Mykala continues her vacation in Cozumel this week. While it was 43 degrees here today, I doubt that compares to her 80s weather with near-equatorial sun. Yum, sun. She does, however, have internet in her hotel room, so I have been able to talk to her via a special Mexican connection. While occasionally unrealiable, this data port is wonderful, and gives the illusion I am on a brown sandy beach next to her. That's actually not true, it's a white sandy beach. I miss you, Mykala Shai'ann, and I can't wait to see you when you return later this month. Fair winds and warm nights to you.