Apparently, I post a fair number of dashboard widgets these days. Here's the latest: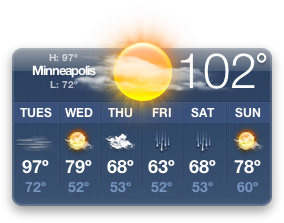 The day this happened, I biked back home in the heat. The wind was up, and it felt artificial it was so hot. Odd thing: I biked past the five story Oak Street Ramp on the U's campus, and there was this cool air wafting out of it. It had gotten so hot so quickly that the concrete of the parking structure had remained cool, and was cooling the block around it. It was really odd to suddenly be about 10 degrees cooler.
Similarly, under the trees of Prospect Park, the asphalt hadn't heated up, and it was cooler. Noticing the changes in heat and my noticeably stickier tires rolled over the pavement was like having another sense.