Mark my words. I will tell you one more time - mark my words, this is what will be coming out so very soon I can taste it. Now, I have heard no industry rumblings about this idea, but one thing I have been inspired by was a wonderfully funny Do-It-Yourself Oakley Thump using the iPod Shuffle. Consider this, the iPod Shuffle is unbelievably small and light (and yes, it is just a glorified USB flash drive … but stay with me here), so this allows it to be used in ways music players have not been used before. People need to think outside of their "box" here (to borrow a corporate clichÉ). You see, the music player no longer has to hook to your headphones via a long, cumbersome cable that twists and turns its way up through every piece of clothing you are wearing - no, the music player can be your headphones now. Before we get to that, I must share my favorite two comments from that DIY Oakley thread I mentioned above.
1.) Posted Jan 19, 2005, 12:51 AM ET by Kapila Wimalaratne
If the Oakley Thump had been done in collaboration with Apple, those things would have come out with a GB of storage and support for Audible books.
Then I would have bought a pair.
Oh well.

2.) Posted Jan 19, 2005, 2:19 AM ET by jjvw
This might be unfair and offensive, but does Oakley's customer base listen to audio books while acting all X-treme(!!!) and stuff?

"Shreddin' it up to Jane Austin, good sir?"
"Why yes, yes I am."
"Lovely"
Now, are you ready to hear the idea? It is so simple you'll kick yourself and swear you've seen it somewhere before. Which you might have. I don't know, I am not you. Regardless, incorporate the iPod shuffle into a pair of headphones. Yes.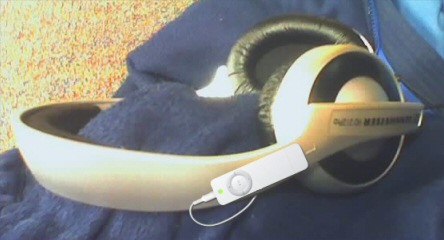 Imagine it, 120 songs (by Apple's count, which is usually inflated by 10-15%), sitting on your head. Want to change a track? Simply reach your hand up and punch a button. I envision a glorified bracket that the iPod would be pushed down into, base first, and then would swing-click into place. This way, it would be simple to take the headphones off your head, hinge-out the iPod, and quickly turn it off. The necessary wires would be contained within the headphone's frame, connected to the shuffle by a little plug with enough play to let the shuffle swing from remove mode to clicked in ready to rock mode. Note the graphic, showing my Sennheiser HD212 headphones (which I absolutely love … great bass and wonderful clarity considering the price point) … if they made a pair of Senn's that did what I am talking about and sounded the way the HD212's do, I'd snap them up in a heartbeat. Wouldn't you? Wire-free music on your head, no worries, no nothing in your way? Perfect for every sport (except extreme water polo, etc.), and up to whatever you want to do.
I love this idea.